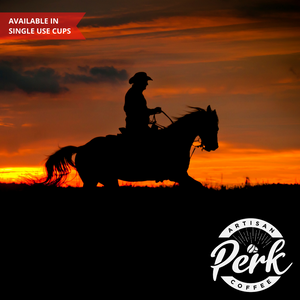 NEW! Cowboy Blend
With both dark and medium roasted coffee beans,
Cowboy
Blend has notes of cocoa, caramel and vanilla. Riding horseback while drinking this delicious coffee is optional.
12 oz - Dark & Medium Roast Blend
NEW! Now also available: Single Use Cups (12 count single-cups per bag)

Perk Artisan Coffee is roasted just hours before being shipped in vacuum-sealed bags to ensure freshness!